Ashley's Fencing is a small Business working on the basis of quality jobs and not quantity. When you phone Ashley's Fencing you talk and deal directly with Ashley. From there we can arrange a suitable time to conduct a quote to discuss your requirements and any questions you may have.
We will then prepare an in depth quote to explain Fence / Retaining wall construction methods, including listing types of materials used and costs.
Ashley's Fencing believes in a fair price for a quality end product. We will admit we are not the "cheapest out there" and unfortunately there are companies out there quoting very cheaply and cutting corners to keep profit up.
Ashley's Fencing does not work on this basis. We believe quality and stability should not be compromised based on a "cheap" price.
Ready to start work? Contact us.
Ashley's Fencing uses high quality fencing materials from
Timber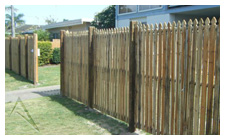 All Timber fencing is concreted into the ground approx 600mm deep. unless over 1800mm high. All rails are fixed in place using Galvanized Bugle Batten screws. All fence Palings fixed using Galvanized Ring Shank coil nails.
Standard Butted
Overlapped and Capped
Good neighbour capped
Picket Paling Feature Fence
Hard Wood and Pine Timber Slat Fence
Gates: Timber
Bluescope Lysaght Colorbond
Bluescope Lysaght Colorbond is 100% Australian owned, manufactured by Colorbond Steel, comes with a 10 year warranty, comes in the 16 contemporary colours and styles.
Not affected by warping or rotting, no need for chemical treatments – Termite free.
All colorbond fencing installed as per specs of supplier. Colorbond installed with a gap underneath to maintain a life span.
All colorbond posts installed approx 600mm into ground and covered in concrete, unless installed to brick piers/walls.
Colorbond can be installed on top of corefilled block walls or on top of concrete, by drilling 2x holes into conrete and using non-shrink grout to securely install the colorbond fence.
Timber Retaining Walls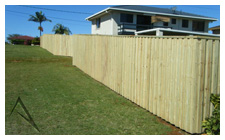 Up to 1 meter high. with socked agi pipe and drainage gravel.
Retaining Walls can be constructed to retain garden, land, level out areas to maximize usage of sloped areas.
Ashley's Fencing Works with Steve's Mini Excavations to provide a valuable service, hassle free job. We provide a fixed rate for the installation of the retaining wall and materials. Steve's Mini Excavations will draft up a brief quote regarding approx work times and dump fees etc. The customer only pays for the time on the job. And Local dump fees including travel to and from. This helps us keep the price of the earth works down.
Depending on the requirements for the retaining wall. We can construct Retaining Walls from CCA Treated Pine Sleepers, CCA Treated Hardwood sleepers.
Construction methods.
In almost all situations Sleeper posts will be installed every 1200mm along the entire retaining wall.75mmx200mmx2400mm Or 75mmx200mmx3000mm (Pine or Hardwood) Concreted in the ground at least the height of the retaining wall.
In most cases we can fix horizontal sleepers from behind retaining wall with 150mm Galvanized Bugle batten screws. By fixing from the back this reduces labour time down, so there is no time consuming measuring and marking to align all fixing to the front of the retaining wall.
Geo Fabric placed behind retaining wall to reduce moss.
Back of retaining wall to be filled with 20mm drainage gravel to reduce load on wall and help with drainage. Socked Agg Pipe to be laid to help with drainage and water diversion.
Glass & Aluminium Pool Fencing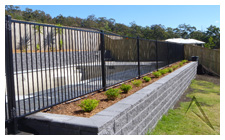 We can supply and install a range of pool fencing types to cover your needs, all pool fencing installed to current Australian standards. Posts installed in ground using concrete or into concrete pad/strip or outdoor concrete area using MP60 rapid set grout which is core-drilled and a cover ring is installed to cover the hole. All fixings are either;
Stainless Steel
Powder Coated Aluminium
or D&D Technology hinges and latches, self closing and compliant.
Timber, Colorbond & Aluminium Gates